MonthlyRentalsByOwner.com
Part of the CLEARle.com Network of websites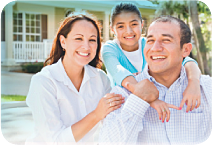 By listing on MontlyRentalsByOwner.com, property owners and managers who prefer month-to-month rentals to long commitments can quickly find tenants and vacation guests who also want a short-term arrangement.
Fill It When You Need It
For property owners and managers who want to rent their homes, apartments, condos, and estates on a month-to-month basis, MonthlyRentalsByOwner.com offers a constant stream of qualified leads who also desire minimal commitment. Listings on MonthlyRentalsByOwner.com target niche renters who prefer a property without many strings attached, because they're simply vacationing in an area or aren't prepared to settle down just yet. These millions of potential renters have specific needs and they're often willing to pay a premium to have them met. You can help this niche rental market enjoy a month of leisure or find a bit of security, while you keep your rental calendar just as full as you want and receive income on a property that might otherwise cost you money because it's empty.
To put your property directly in front of retirees, singles without child obligations, parents vacationing with kids for the summer, job-transfer professionals, and other potential renters who actively seek out properties that allow month-to-month leases, list it with MonthlyRentalsByOwner.com. During an easy set-up process, you'll can tag your property for view within this niche market so that it also targets micro-niches like renters who want to work for a month at a beach property or month-to-month tenants who might appreciate the fact that there's a golf course nearby.
MonthlyRentalsByOwner.com is part of the CLEARLe network of niche rental websites that includes PetFriendlyRentalsByOwner.com and BoatFriendly.com, so you can opt-in during set-up to make your property visible on these specialized markets as well.
Attract Vacationers – Retirees taking long vacations, younger renters who want to stay for a while in area but not grow roots, and mobile business people who can work from anywhere are looking for your month-to-month rental.
Lease to In-Betweeners – Military personnel stationed for long periods of time often prefer private rentals to military housing. Corporate relocations sometimes necessitate month-to-month rentals, as houses back home don't sell right away or employees wish to test a housing market. Be on MonthlyRentalsByOwner.com, where these niche renters are looking for desperately needed short-term housing, and fill your rentals fast.
Easy Administration – Should you need to make changes to your listing, it's simple to do from a centralized hub that allows you to alter availability, pricing, or other information to populate immediately on MonthlyRentalsByOwner.com and across all niche sites opted into in the CLEARLe network.
Start Listing Now